Ready to Graduate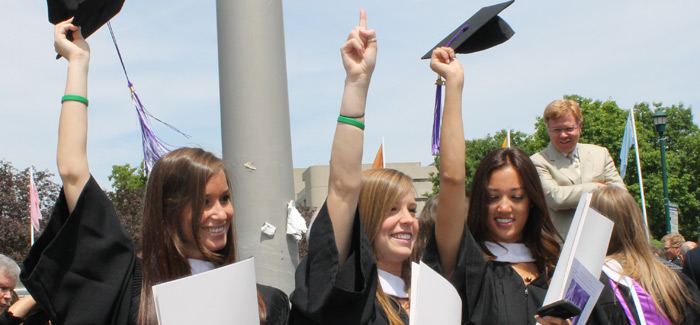 Apply to graduate online at student.uwo.ca by April 30.
I just completed all my required courses successfully to graduate.  What happens now?
Congratulations!! Once all the grades are in from your professors, Western has to complete the adjudication process. They will be checking each student's record to make sure students have met all degree requirements.
To make sure adjudication was successful, log on to Student Center. Under the Academic tab, select View My Grades. You will see all your final grades. Select the tab at the top titled Grade Report. In the Remarks section at the bottom of this screen, it will say whether you are to proceed to graduate.
Get ready to convocate!
Check to see what day and time you are graduating.
June 12 at 10:00am: Faculty of Social Science - BA Honors, BSc Honors programs, Diplomas and Certificates (except BMOS).
June 13 at 10:00am: Faculty of Social Science - BMOS.
June 13 at 3:00pm: Faculty of Social Science - 3 yr and 4 yr, excluding Honors and BMOS.
Autumn 2019 Convocation
Wednesday, October 23 at 3:00pm Faculty of Social Science (Graduate Degrees)
Friday, October 25 at 3:00pm Faculty of Social Science (Undergraduate Degrees)
Book your graduation gown.
You will be allowed four guest tickets which you will print before convocation from the Guest Ticket Request site at the end of May. For additional/extra tickets, please contact the Dean's Office social-science@uwo.ca. They are given out on a first come first serve basis.
On the day of graduation, you must be in the Thames Hall gym, room 3120 no later than 8:45am for morning ceremonies or 1:45pm for afternoon ceremonies.
More information about parking, accessibility, purchasing DVDs, photography, flowers, or not being able to attend, refer to Western's Convocation website.
Extra Tickets:
Most students will receive 4 tickets automatically.  Exceptions to this are students from King's University College and the Faculty of Education (each student from these areas will receive 2 tickets automatically).  For additional/extra tickets, please contact the Dean's Office at social-science@uwo.ca.  For BMOS students contact the BMOS office at dan@uwo.ca.
Students in the School of Graduate and Postdoctoral Studies may request extra tickets through the Helpline at (519) 661-2100. 
Extra tickets awarded to students by their faculty/program/school will be added to their online total when online tickets become available (mid May).
Students may start to request their 4 ticket allotment online through the Convocation website sometime in the middle of May, or whenever they are adjudicated as AW on Student Center, whichever is later.
Tickets can be reprinted by the student if the originals are lost, however, tickets are only valid for 1 scan at the door, so any reproductions or duplicates will NOT be valid. 
Guests who do not have a ticket for a particular ceremony will wait in the 'non ticket holders' lineup until all the ticket holders have entered.  These people will be allowed in to either the main auditorium, space permitting, or the overflow room.  If there is not enough space, then they will be directed to an overflow room where they can watch the ceremony and potentially come over to see their graduate cross the stage.