Remind works with your busy student life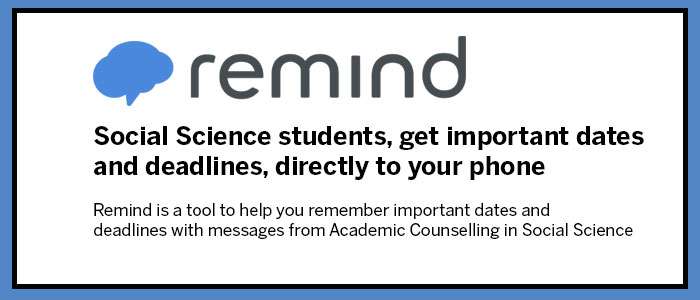 It's All In the Text!
Sign up for the Social Science Academic Counselling Remind App. Let us help you remember important deadlines and key dates throughout the Academic term.
We know your student life is busy and this app is an effective tool to keep you connected to Academic Counselling in Social Science.
You won't be flooded with information because we only send important key information you need to know at crucial times throughout the year.
Receive reminders for:
add/drop,
Intent to Register,
appeal deadlines,
office closures,
examination periods,
graduation application due dates,
summer registration periods.
Give us a try.
It's fast, easy and free to sign up:
If you have a smartphone, get a push notification. On your IPhone or Android phone, open your web browser and go to the following link: Rmd.at/ssaco17
Follow the instructions and sign up to Remind. You'll be prompted to download the mobile app.
No smart phone? No worries! You can get text notifications
Send a text message to ssaco17to the number (306) 992-6966
No mobile phone? That's ok – we can still connect with you.
Go to rmd.at/ssaco17 on a desktop computer to sign up for email notifications.